The week of April 23 to the 29th , 2017 celebrates our volunteers and this year we created a newsletter to share some stories and photos of our volunteers making a difference in the lives of those we support.  Thank you to all the volunteers who help us out in so many different ways on a regular basis.  Your contributions make a significant difference for those we support.
Please enjoy the stories.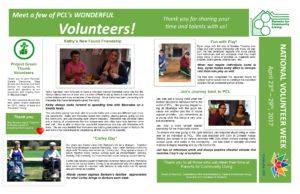 If you would be interested in becoming part of our growing volunteer team, please contact me at brendavh@pclkw.org or give me a call at 519-742-5849.
Thanks
Brenda