Many of the individuals supported by PCL give back to the community everyday by volunteering and helping out in the community.  A few months ago we challenged the homes to tell us stories of the staff and individuals supported in the homes participating in some sort of activity that gives back to the community.  The stories that have been shared are really amazing and showcase the many ways that we participate and make a difference in our communities every day.  Please read the following story of Giving Hope to see just what a difference everyone in the community can make.  As well, check out the PCL facebook page for some more great stories.

Giving HOPE
On a rainy day after some thought – I struggled to determine exactly what we could give back to a community.  Working with individuals with special needs often requires us to think outside the box to see abilities.  Money is always nice to give and doing physical labour is always appreciated.  However, what comes to mind is Maya Angelo's saying that people will not remember what you do but how you made them feel.  On that note, the ladies at Crimson give so much to the community on a daily basis.  Whether it be Audrey saying "Hello" in her special way with her brilliant smile and sparkle in her eyes.  Cory's ability to bring joy to your heart with her infectious laugh.  Michelle's kindness and thoughtful ways of offering support during difficult times or Barbara's ability to express her language at the most appropriate of times that brings laughter to those around her.
One of the greatest abilities that the Crimson ladies have to offer is HOPE.  Hope for a better future for others.  We created a sign HOPE and each lady wrote words of encouragement to the youth at Attawapiskat.  As we know this community has been in the news for some time dealing with very difficult social issues.  When I discussed the issues with the ladies at Crimson – one stated "What country is it in?"  Not realizing that in our own province people are living without adequate housing, clean running water etc.  We completed the encouraging sign and mailed off the words of hope and encouragement to the youth of this community hoping that spreading PCL positivity and care will touch even just one person.  It is our hope that we made them feel as if someone out there cares – like we do.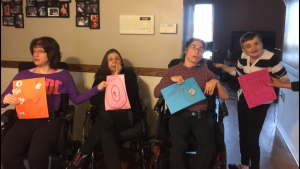 Ms.  Jennifer Allan
SSP Crimson House