Steven became part of the PCL family in January 2007 when he moved away from his family home for the first time and into PCL's home on Westheights Dr.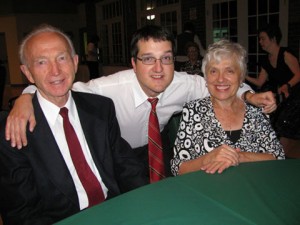 Currently Steven lives in the Westvale home where he very much enjoys spending time with his housemates and helping out with yard work and cleaning.
Steven keeps himself very busy during the week. He participates in a day program offered through Extend-A-Family (EAF) called W.A.L.E.S. (Working Adults Learning Empowering Skills) as well as many other programs associated with EAF, such as Best Buddies, Mighty Hawks, Annual WOW walk and the Annual Health and Wellness fair.
Steven volunteers at Meals on Wheels, Kitchener Public Library and The Museum and also has a paid job working in the EAF office on Tuesday afternoons.
Steven is very active with Sports for Special Athletes. In the summer he plays mini golf and in winter, 10 pin bowling.
Steven gets along well with his roommates and enjoys going for long scenic walks, going to the movies and shopping with them. Steven also enjoys working on his puzzles, Lego models and bird watching.
When you ask Steven what he likes best about his busy schedule he will say:
"It's fun, I like working with people"