Here at PCL we have really been learning to surf the waves lately, it has been very busy with opening the new program, moving several people around and hiring many new employees.  This is a very exciting time for PCL but it can also become overwhelming and stressful.  However, one of the easiest ways to deal with stress and anxiety is through exercise!  With that in mind The PCL Wellness committee is thrilled to kick off our annual fitness challenge.The PCL Extreme Makeover Fitness Challenge begins on March 12/18.  This challenge is open to all employees and those we support.  We have some amazing prizes and lots of fun bonus challenges throughout the 8 weeks to keep you motivated.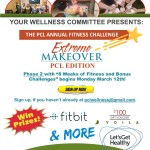 Let's beat this stress!. Go for a Walk, Ride you bike, Pick any outdoor activity and let's spring clean our mental health.  So when you feel your blood pressure rising, remember to ride the waves and get active!
In other news;
We are happy to announce that we won the Leadership Award from the Provincial Developmental Services Human Resource Strategy based on the leadership we have demonstrated in implementing CORE Competencies and increasing professionalism in our agency.  http://www.ontariodevelopmentalservices.ca/about-us/whats-new  Here is the link showing us receiving the award at the Annual Conference in February.
We were also nominated for two awards for Business Excellence through the Chamber of Commerce, one for best Non-profit organization and one for Health and Wellness Promotion in the agency.  Unfortunately we did not win but it was an honour to be nominated among other really worthy organizations.
We are also happy to welcome the Kitchener Titans to our Core Dream Club program on March 8th to run some drills with the people that attend and the Titans have also invited Parents for Community Living to a game on Sunday March 18, 2018 at 2:00pm.  All tickets are free but you must register with Angela to get them.  Email Angela at angelam@pclkw.org to reserve your seats.
Brenda