Wow, I can't believe July is here already and the busy summer season begins.  But, lets just say that June was no slouch either with a ton of events and activities within the agency.  We were fortunate to be chosen for a project for the Annual Day of Caring organized by the United Way. Both our Westheights and Forestlawn homes benefited from teams who did a bunch of yard work and gardening.  Many thanks to the teams from Sangen Health Centre and Henry's Helpers for the incredible amount of work that was accomplished on June 5th.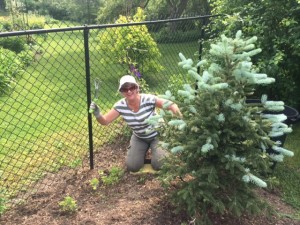 We completed the annual fitness challenge this month, and congratulations to our very own Kathy K who won with the most fitness points for an individual supported and to Rohin H (M)  who won as the staff person with the most fitness points.  Thanks to the wellness committee for organizing and facilitating this event, specifically Chantal F., Lisa C and Donna G.  We continue our walk across Canada step challenge, and hopefully we will get some updates from the wellness committee very soon to see how far we have made it.
So, speaking of fitness… several of us competed in the Grand River Amazing Race on June 20th to raise money for PCL.  We had a lot of fun and it was not nearly as terrible as i had expected.  Many thanks to the teams who participated on behalf of PCL  Jessica and Jamie – the Mockingjays, Dianne and Ashley – Girls on Fire, Emma and Julio – the Rough Riders and of course Mary Anne and myself as Split Personalities.  As well, so many representatives from PCL volunteered on the day so much thanks goes to Anna K, Wendy B., Giselle D., Denis T., Shereen R., Tara B, Sonya M. Lisa R , Doug C. and Kathy L.  A truly great day and although I don't know the exact amount we raised over $5000.00 for PCL.  Well done to everyone.
Of course that same week we hosted and participated in our Annual Golf Tournament.  It was a great day and lots of great prizes for everyone.  Thanks to all the volunteers and supporters of our agency for putting on a fun day, with EXCELLENT weather.
Its not all fundraising and fitness though, we have held and facilitated several training session in the months of June and more are coming in July.  We have some terrific volunteers helping us in all of our locations and with many different activities, specifically this month, I wanted to focus on Ginny E. who has been lending her expertise and support to our Dream Club at the Core Lifestyle and Fitness Centre.  Ginny will be running an activity on Mondays and was able to borrow a bin of musical instruments for the summer from the school she used to work at.  Our partner CORE is looking into providing us with drumsticks to use for a drum fit clas s.  It looks like a very busy summer at our Dream Club.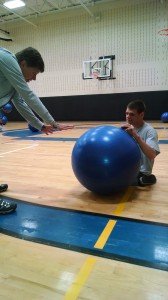 We lo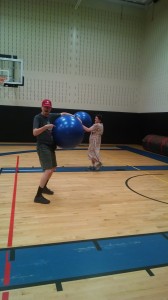 o
We look forward to the Annual family picnic in August and open houses for our Jacqueline and New Casey home.